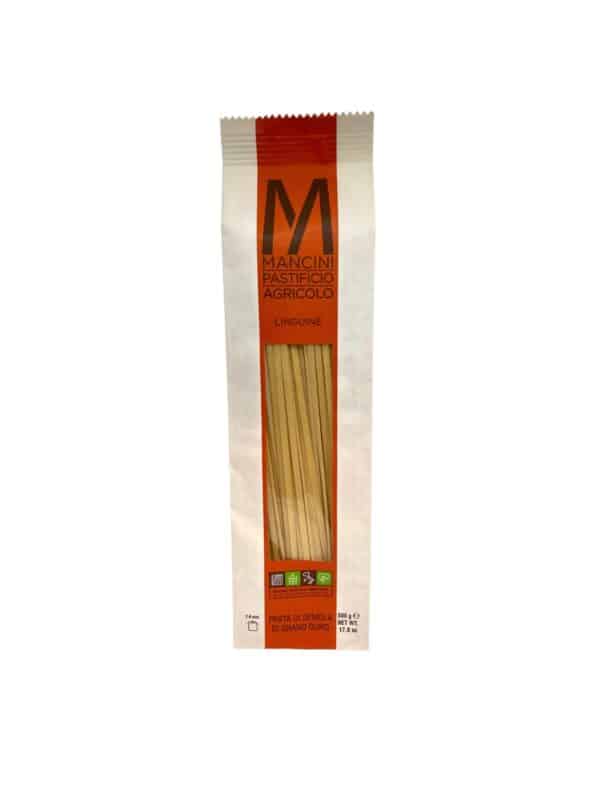 Pasta Mancini Linguine 500 gm
$9.90
Pasta Mancini Linguine
Massimo Mancini is a third generation farmer. After working for Barilla as a consultant he quit to return to the land. He didnt just want to grow wheat he wanted to grow it and process it to make his own pasta.This is a unique pasta business.
By 2007 the building that houses the pasta making and drying was completed to make a "Factory in a Wheat field".  Here at the factory that overlooks the growth and harvest of the grain, the pasta is made on traditional bronze castes with up to the minute technology controlling the drying and packaging of the finished pasta. The interior of the pasta is rough allowing it to hold on to sauce. The pasta is dryed slowly at 40 degrees taking up to 3 days. Most industrial pastas are dried in 2-3 hours under heated air. Slow drying will result in the pasta holding it's colour , flavour and consistency when cooked.
Each beautifully packaged bag is stamped with its wheat's harvest date. Grains like wine, will vary slightly in flavour profile along with the weather.
A truly Paddock to Plate Pasta